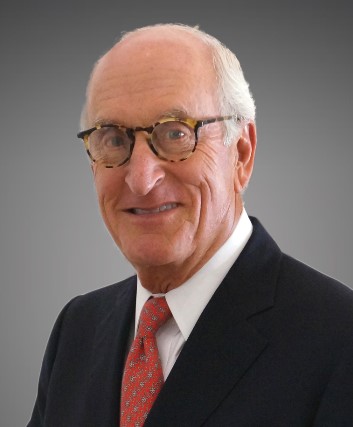 Robert P. Fine
FOUNDER (RET.)
Mr. Fine is a founding member of Hurwitz Fine P.C. and concentrated his practice in Business Law, Estate Planning, Corporate Finance and Health Law.

Throughout his career, he was extensively involved in the purchase and sale of business entities; business valuation; and in transactions involving major finan­cial institutions, including industrial bond matters. He lectured and wrote extensively on these subjects and also led the firm's Florida Estates & Trusts practice.

Mr. Fine received a baccalaureate degree from the State University of New York at Buffalo, where he was President of the Student Government. He went on to earn his Juris Doctor from the University at Buffalo School of Law, where he was Comment Editor of the Buffalo Law Review. Prior to entering private practice, Mr. Fine served as law clerk—ultimately chief law clerk—to the Appellate Division of the New York State Supreme Court, Fourth Judicial Department, in Rochester, New York. He is admitted to practice in the States of New York and Florida, the United States District Court, and the United States Tax Court.

Mr. Fine served as Secretary and General Counsel to the Erie County Industrial Development Agency, the Buffalo and Erie County Industrial Land Development Corporation, and the Erie County Regional Development Corporation from 1990-2009. He served as a member of the transition team executive committee for Erie County Executive Mark C. Poloncarz. Mr. Fine is a past Director of the Buffalo Niagara Partnership and served as a member of its Oversight Committee for the Erie County Stabilization Project. He is a member and former President of the Buffalo Club. He also served as a member of the Board of Directors and Vice Chair of the Roswell Park Comprehensive Cancer Center where he also chaired the Finance Committee.

In 2016, Mr. Fine was awarded the Special Service Award by the United States District Court for the Western District of New York "in recognition of and appreciation for extraordinary and exemplary service to the Western District of New York and its Judges; and for demonstrating extraordinary commitment, dedication, skill, and professionalism in assuring equal access to justice for all." Mr. Fine has served on both Federal and State judicial screening panels. On the Federal level, he served as Chair, and previously as a member, of the United States District Court Magistrate Merit Selection Committee for the Western District of New York, having been selected by the Chief Judge and the District Court Judges of that Court. This Panel evaluates and recommends candidates for the position of Magistrate Judge for the Western District of New York. On the State level, he has served as a member and Vice Chair of the Governor's Judicial Screening Committee for the Fourth Judicial Department of the State of New York, which includes Buffalo, Rochester and Syracuse. This Committee is responsible for the evaluation of candidates for vacancies on the State's Supreme Court, County Courts and the Appellate Division within the Fourth Department.

Formerly counsel to the Erie County Charter Revision Commission and associate counsel to the New York State Assembly Committee on Ways and Means and the Committee on Corporations, Authorities and Commissions, he is a member of the American, New York, Florida, and Erie County Bar Associations; he is a past Director of the latter, having chaired its Tax Law and Corporation Law Committees. He served on the Executive Committee of the New York State Bar Association's Business Law Section. He is listed in the Who's Who in American Law, named to the list of Best Lawyers in America, New York Super Lawyers, and has been listed in the Buffalo Business First Who's Who in Law and Legal Elite of Western New York.

Mr. Fine was honored with the Distinguished Alumni Award for his valuable contributions to the legal profession and business community by the State University of New York at Buffalo School of Law, where he served as a member of the adjunct faculty teaching the course entitled, "Buying and Selling Businesses."
Mr. Fine received the 2007 Community Leader Award for his service to the Buffalo community by the National Federation for Just Communities of Western New York.

Mr. Fine was instrumental in bringing the World University Games to Western New York, advocating for our region to national and international councils, serving as an executive committee member of the local organizing committee and as counsel to the organization.

He has appeared often as a speaker/panelist before the state and local bar associations as well as the Western New York Annual Federal Tax Institute, which he previously chaired. Past President of the Alumni Association of the University at Buffalo Law School, he is an emeritus member of the Law School Dean's Advisory Council and also served on the search committee that selected a new dean for that school.

Mr. Fine is a past President of the Financial Planning Counselors of Western New York and a former Vice President of the Jewish Federation of Greater Buffalo, Inc.