On May 14th, 13 people were shot at a nearby Tops Supermarket in Buffalo, in a racially motivated attack. There are few words that seem adequate at a time like this. We are all shaken and grieving over what happened just down the street from where many of us live and work every day. Our thoughts are with the victims, the victims' families and the community affected by this hate crime. The impact is wide reaching and we are all deeply affected.
Hurwitz Fine, through our Diversity & Inclusion Committee, continues to try and find ways to enact meaningful change both internally at the firm and externally in our community. We are committed to diversity, equality, and justice in the workplace and in our communities, and in the wake of this tragedy renew our dedication to opposing racism and prejudice. There is no place for racism, hate and violence. We are dedicated to making a difference toward change.

Hurwitz Fine's Commitment
Hurwitz Fine P.C. is committed to diversity, equity and justice in the legal system, in the workplace, and in our community. At the firm, diversity encompasses a variety of characteristics, lifestyles and perspectives; including race, ethnicity, national origin, religion, gender, sexual orientation, gender identity, age, education, veteran status, disability, socio-economic status, family and marital status. A diverse and inclusive environment—where individual differences are recognized and valued—is essential to both the quality of our client service and the daily lives of our lawyers and staff.
As a woman-led law firm for multiple generations, Hurwitz Fine has a long history of encouraging, supporting and hiring women and minority lawyers and advancing them to the ranks of partner and equity owners. In fact, our current President/Managing Partner, Jody E. Briandi, began her legal career at the firm as an associate attorney, as did her predecessor, Ann E. Evanko.
Internal Diversity & Inclusion Committee
Hurwitz Fine maintains a Diversity & Inclusion Committee, which provides recommendations to the Board of Directors targeted at diversity and inclusion initiatives including the recruitment of diverse job candidates, retention of a diverse workforce, community outreach and giving back, the use of women and minority owned vendors, and the promotion of an inclusive work environment based on respecting the experiences and perspectives of others.
External Community & Charitable Organization Involvement
As part of our firm's commitment, we look for ways to get involved in, and serve our community and beyond. As a firm, we appreciate that involvement in community and charitable organizations is fundamental to personal and professional development. Hurwitz Fine has a longstanding history of supporting local and national organizations who share our core values. We actively encourage and mentor those interested in getting involved.

Our attorneys, many of whom hold leadership positions, are active members of the following local and national community and charitable organizations focused on service, education and diversity:
UB Law School, Dean's Advisory Council
Additional Initiatives
Our attorneys and staff contribute to and strengthen our Firm's culture of giving back. We have held firmwide holiday drives in collaboration with the Minority Bar Association, the "Stone's Buddies" program at Oishei Children's Hospital, and Child & Family Services. We also regularly host firmwide drives and events, which have supported such charitable organizations as FeedMore WNY, the International Institute, Friends of Night People, Hospice of Buffalo, Ride for Roswell and the Buffalo City Mission. We also have hosted internal volunteer opportunities such as "Birthday in a Bag" to support Child & Family Services and the United Way, partnered with ConnectLife to host a blood drive, and recently sponsored a firmwide drive for the Buffalo United for Afghan Evacuees, which provides household items to help Afghan refugees who have resettled in in WNY.
We regularly attend and sponsor fundraisers for community and organizations such as the Minority Bar Foundation, the Volunteer Lawyers Project, the Women's Bar Association of WNY and WNY Women's Foundation.
Pro Bono Program
In addition, Hurwitz Fine maintains an active pro bono program partnering with civil legal service providers such as the Volunteer Lawyers Project and the Center for Elder Law and Justice. We are also on the panel for the Federal Court Pro Bono Program and regularly accept assignments. We recognize the importance of serving all members of our community, including those who lack access to legal representation to which they are entitled. As a law firm of over 50 lawyers, we have the ability to bridge that gap.
Forum for Women Lawyers
The Forum for Women Lawyers is a newly created group at Hurwitz Fine, intended to provide the firm's women lawyers with social and professional opportunities to build sustaining careers and strengthen relationships among colleagues and peers in the community. The group focuses on creating conversations and activities tailored to the unique challenges that women lawyers face in private practice. The Forum's inaugural year has focused on four key priorities—self-advocating, work-life balance, educational opportunities for professional development, and advancement and promotion.
Midsize Mansfield Rule
Hurwitz Fine is currently participating in the 2021 – 2023 Midsize Mansfield Rule Certification class. The law firm is the only Western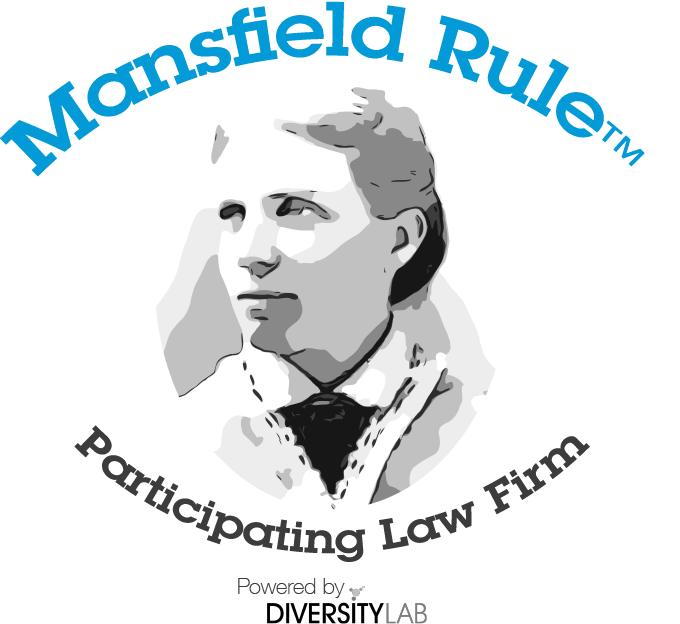 New York firm to participate in the national diversity law firm certification process, which will last a rigorous 18 months, with certification designated in March 2023. The overall goal of the Midsize Mansfield Rule is to increase the representation of diverse lawyers in leadership by broadening the pool of women, LGBTQ+ lawyers, lawyers with disabilities, and/or racial/ethnic minority lawyers who are considered for entry-level and lateral attorney job openings, leadership opportunities, equity partner promotions, and opportunities to connect with clients. This certification is another positive step we are taking as a firm toward achieving our goals of creating and maintaining a diverse team of attorneys to partner with our clients. Our participation also demonstrates Hurwitz Fine's deep commitment to diversity, equity and inclusion within our firm culture, client service teams, and in recruiting efforts.