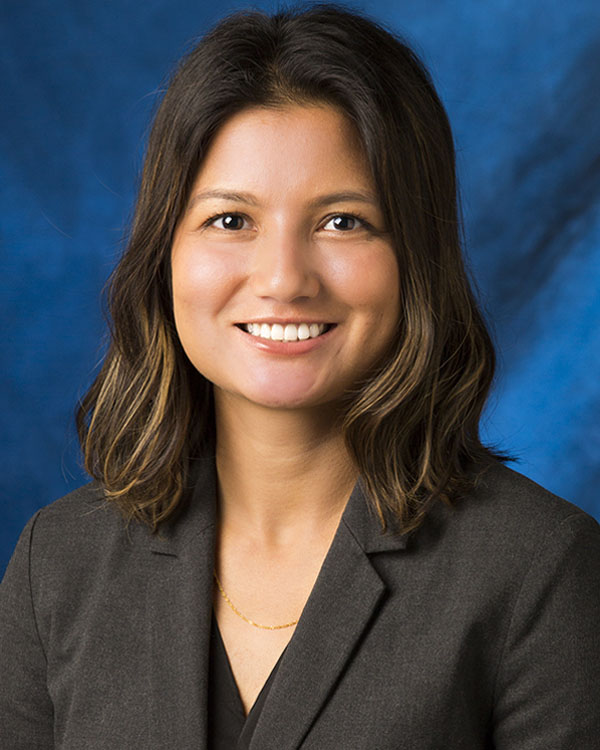 Ashmita Roka
ASSOCIATE
Ms. Roka focuses her practice in the defense of construction accidents and medical malpractice claims as a member of the firm's New York Labor Law and Medical Malpractice defense teams. She has experience drafting pleadings, handling discovery demands and responses, summary judgment motions, motions to compel, motions in limine, depositions, case management and strategy sessions, as well as legal research experience.

Prior to joining Hurwitz & Fine, P.C., Ms. Roka served an intensive judicial externship with the Honorable Patrick H. NeMoyer in the Appellate Division Fourth Department where she performed research and drafted reports for the Court on civil and criminal appeals, such as downward departure from SORA hearing, summary judgment motion, ineffective assistance of counsel, and harsh and severe sentencing. She also reviewed and synthesized the record on appeal for relevant facts needed for the Court's opinion. She also served a judicial internship for the Honorable E. Jeannette Ogden of the Supreme Court Eighth Judicial District where she performed research, drafted decisions, and edited draft opinions on a wide variety of civil motions, such as personal injury, contract breach, attorney fee disputes, and patent jury instructions. There she also observed summary judgment motions, trial proceedings, and summary jury trials. She also served a judicial externship with the New York State Division of Human Rights for Administrative Law Judge Martin Erazo. There she reviewed and synthesized trial transcripts, evidence, and relevant facts needed for the Judge's decisions and drafted legal opinions and conducted legal research on issues, such as unlawful discriminatory practices relating to employment and public accommodation in violation of N.Y. Exec. Law, Art. 15.

Extensively well traveled and multilingual, Ms. Roka speaks Nepali, Hindi and English. Ms. Roka served as a law clerk in Ecuador, published articles on the multicultural experience of studying abroad while at the Institute of American University in France, worked as a Human Rights Fellow with multinational investigative teams on child sex tourism and child abuse in Thailand, and worked in New York City as an interpreter on asylum cases for Nepali clients for venerable NYC law firms including Willkie Farr & Gallagher LLP, Skadden, Arps, Slate, Meagher & Flom LLP, and Frankfurt Kurnit Klein & Selz.

Ms. Roka earned her Juris Doctor from the University at Buffalo Law School where she served as Articles Editor for the Buffalo Human Rights Law review, worked as a research assistant for a book on the Trans-Pacific Partnership, and was selected as the Student Commencement Speaker at her graduation ceremony. She was also awarded Best Petitioner's Brief in the Frederick Douglass Regional Moot Court and competed in the Charles S. Desmond Intramural Moot Court. She earned her Bachelor of Arts in Public Policy at William Smith College.